An overview of the most basic Berke areas and functions; creating new assessments and inviting candidates to take them.

Where to start.
No need to download or install anything. Log in using your username and password. If you've never completed a trial of Berke before, it will give you the option to start using the system right away or offer a tour of our assessment's features that you can read through at your own pace. This tutorial will focus on using the system right away.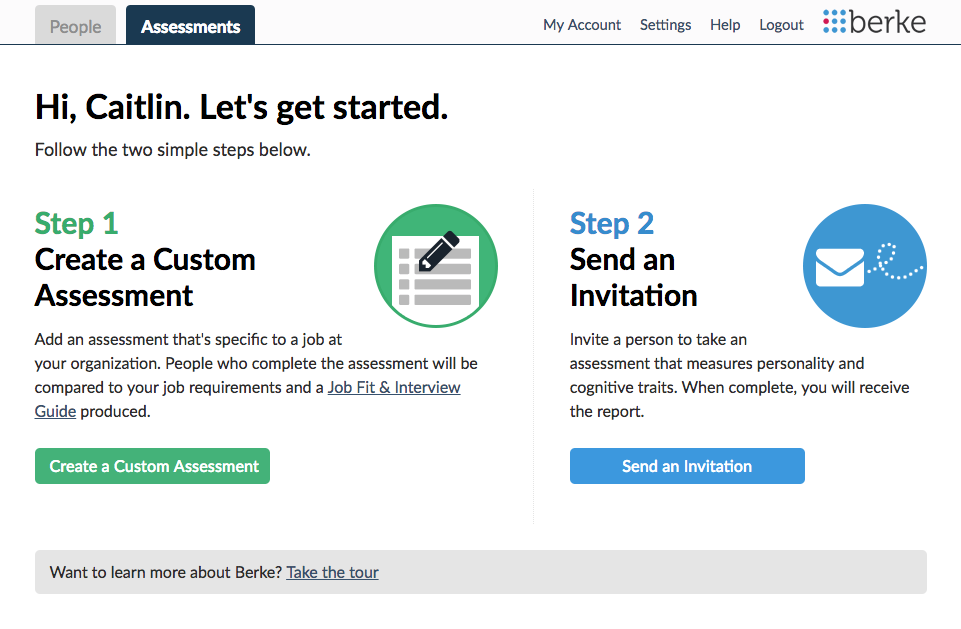 ---
Step 1: Creating a custom assessment.
There are two types of assessments you can use depending on what you want to know about a candidate. Spotlight Assessments are for getting to know the candidate's personality and gain insight into their strengths and weaknesses without comparing them against a job. Your account comes equipped with a Basic Spotlight assessment by default, so you will not need to request one. Job Fit Assessments are for comparing a candidate to a job position. The candidate could be someone you're looking to interview or someone who is already an employee at your business. Both types of assessments come with Interview Guides tailored to the results.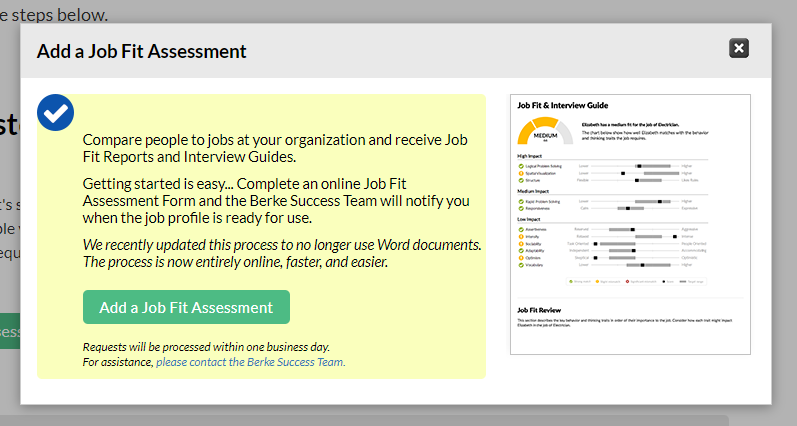 To create a Job Fit Assessment, click on the "Add Job Fit Assessment" button. You will be taken to an online form with questions about the job. Fill out the answers based on the type of traits you would like to measure or the position you are interested in comparing candidates with, then click "Send Job Request." Your assessment gets created within one business day and is then ready to use. Repeat as necessary to round out your testing needs. If you have questions about the process, you can email them to jobs@highmatch.com.com.

---
Step 2: Sending an invitation.
Click on the "Send an Invitation" button to open an invitation screen where you can specify a person's name, the type of assessment you'd like them to take, and details such as who the hiring manager should be. You can specify if you'd like to issue an email invitation or begin the assessment on a computer near you. By default, your candidate's assessment reports will be emailed directly to the assigned hiring manager. Once you've specified how a candidate will take the assessment, this step is complete. It is possible to send invitations to many people at once as well. For more information about inviting individuals or groups of people to assessments, head over to our Inviting People to Assessments tutorial.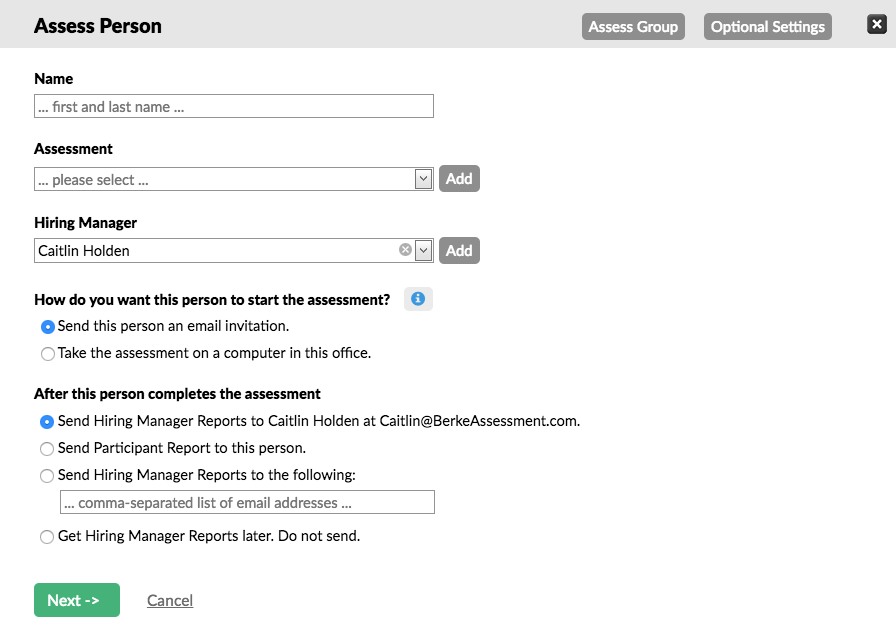 ---
Reviewing reports.
Each time you log into Berke after completing steps one and two, the system will show the status of everyone you invited to take an assessment on your People Tab. After a candidate completes their assessment, you can view their reports here by clicking on the blue "Reports" button that aligns with their name. If they took a Job Fit Assessment, you will also be able to see their Job Fit Score listed.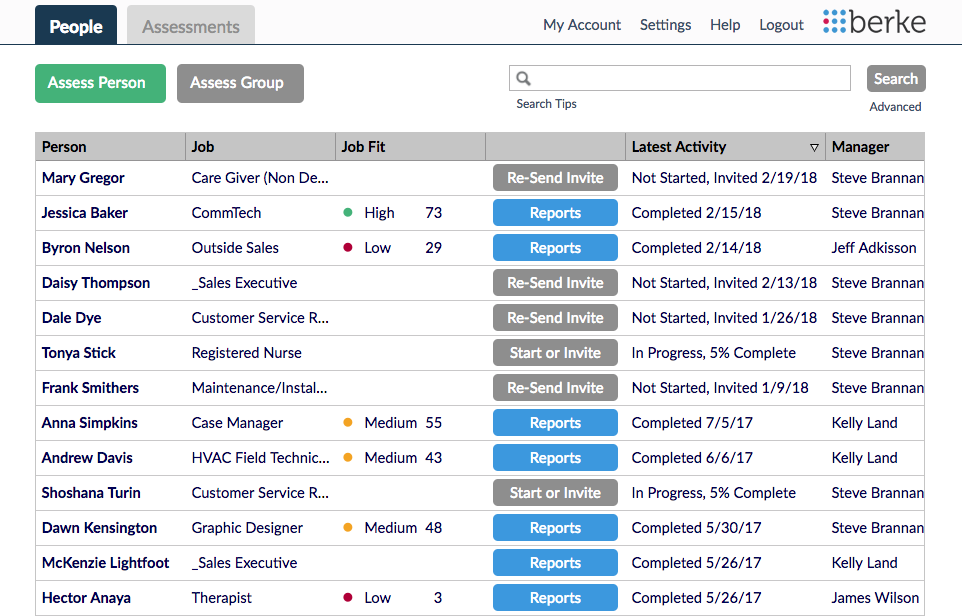 Continue inviting new candidates to your assessments by clicking the Assess Person button at the top of the People Tab. Similarly, you can submit new assessment requests by going to the Assessment Tab (top left of the screen, next to the People Tab) and clicking the Add Assessment button at the top of that tab. For more information about the assessment and people tab areas, visit the Understanding the People Tab and Understanding the Assessment Tab tutorials.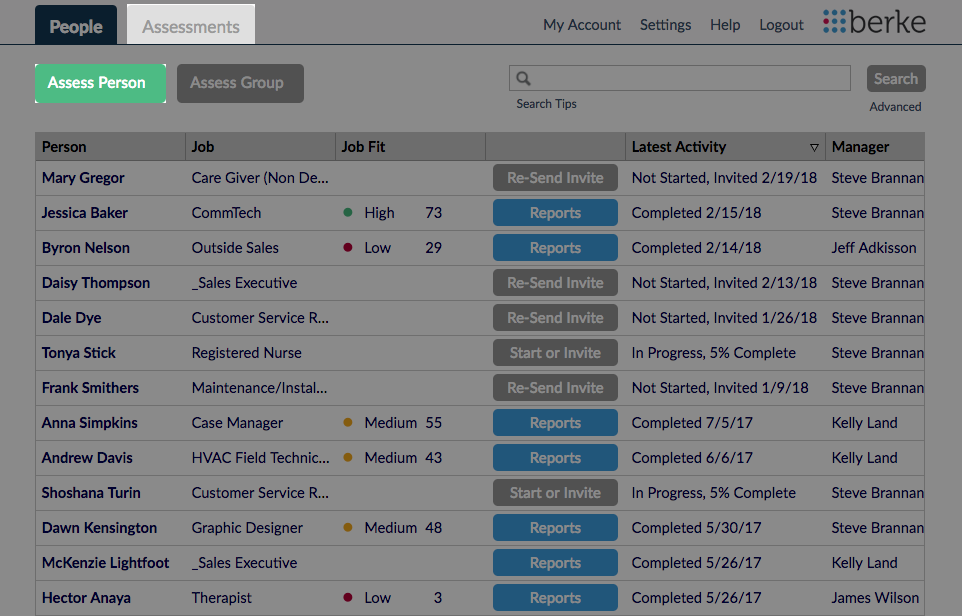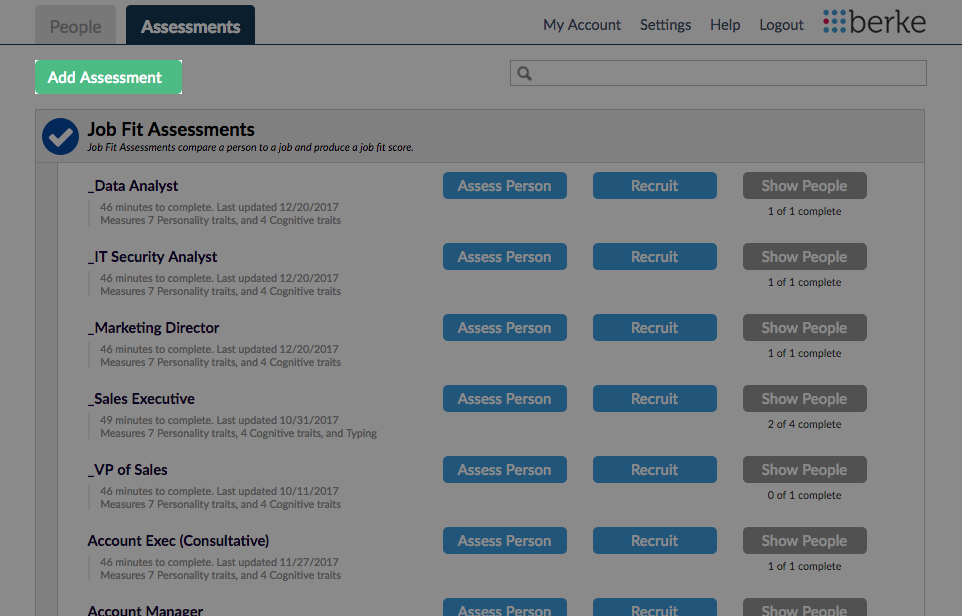 You've started. Keep going.
By following this tutorial, you've learned the basics to get going in the Berke system such as creating new assessments, inviting candidates to take them, and viewing their results afterwards. There's much more you can do with Berke. Head back over to the resource library and explore the tutorials you'd like to know more about. Read through or watch them all and become a Berke master in no time.
Topics: learn the basics
Recent Posts